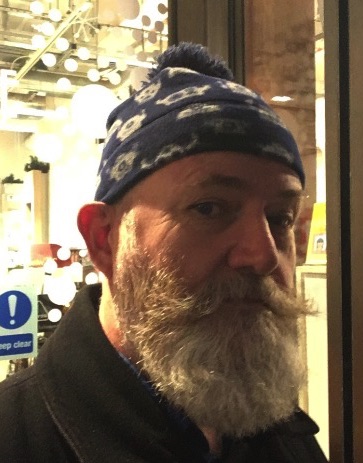 Nicholas Moore
was born in London in 1958. He was brought up in Soho in the 1960s, with both parents working in the fashion industry.
Whilst studying zoology at Bristol University, he realized it was painting that was his real passion. After his degree, whilst studying printmaking, he made his second trip to Greece in 1982. Whilst in Crete he met the British artist John Craxton, who became his mentor. He then remained in Crete for the following 8 years. It was during this period that he started showing in London. His first solo show was with Christopher Hull in 1986.
He returned to London in 1990. He embarked on further printmaking studies whilst maintaining contact with Greece, then moving back there in late 2001. For the next ten years he would be based on the island of Syros.
During this period his style changed from that of a traditional painter,  moving into mixed media and assemblage. His work is primarily figurative,  being heavily influenced by his love for Greece — both ancient and modern. He is primarily driven by the power of the object and what it means to us, both personally and historically.
Since 2011, he divides his time between New York City, London and Greece. He had his first solo show in New York at the Tenri Cultural institute in November 2013.